It's HammerTime with Gregg, Shawnee & Wayne Maria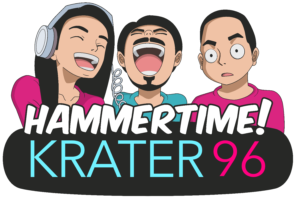 Monday-Friday: 5:00-10:00am
Saturdays: 6:00am-12:00pm
Sundays: 7:00am-11:00am
Gregg Hammer: A Biography
Despite speculation to the contrary, Gregg Hammer was born. He grew up in Waipahu. He shares his life Shawnee and their daughter Zoë and his 2 grown sons, Jon and Skylar. Gregg has a passion for American muscle cars and motorcycles!
Shawnee Hammer: A Biography
Shawnee Hammer is originally from Oregon, she moved to Hawaii to pursue higher education and fell in love with not only the islands but also her husband, and on-air co-host, Gregg Hammer. Shawnee and Gregg have been married for 17 years. She loves to spend time with her family, fashion, trying new restaurants, hiking and serving in their Church and community.
Wayne Maria: A Biography
Best part of my job: I get to press buttons and play music and talk to people all day long
Favorite ice-cream flavor: Awww…do I have to choose just one? Okay, all the flavors at Baskin Robins.
Favorite movie: Star Wars Episodes 1-6. I can watch any of these movies anytime.
Proudest of: My wife and kids.
Childhood ambition: To be a disc-jockey. Nah. I wanted to be a brain surgeon/lawyer, so just in case I got sued for malpractice, I could defend myself.
I would love to be paid to: …be a male stripper. Kinda like Chris Farley and Patrick Swayze in that SNL bit. I'd obviously would be the Chris Farley character.
One of my first jobs: Bagging groceries at Foodland. "Paper or plastic?"
I appreciate most: Living in the most beautiful place on Earth with my incredible family.
Personal challenge: Balancing family and business.
Wildest dream: To play lead guitar for KISS in front of a sold out Aloha Stadium in Ace Freely makeup.
I could live the rest of my life without: Driving in traffic on the H1.
Send Wayne an email!
Gregg's daily crank call will definitely have you cracking up!…CLICK HERE TO LISTEN