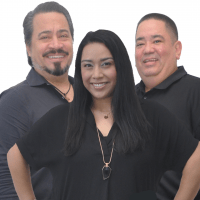 It's HammerTime with Gregg,  Shawnee & Wayne Maria

Monday-Friday: 5:00-10:00am

Saturdays: 6:00am-12:00pm

Sundays: 7:00am-11:00am
Video of the Day
Shaquille O'Neal Speaks at A Celebration of Life for Kobe and Gianna Bryant

Gregg Hammer: A Biography
Despite speculation to the contrary, Gregg Hammer was born. He grew up in Waipahu. He shares his life Shawnee and their daughter Zoë and his 2 grown sons, Jon and Skylar. Gregg has a passion for American muscle cars and motorcycles!
Shawnee Hammer: A Biography
Shawnee Hammer is originally from Oregon, she moved to Hawaii to pursue higher education and fell in love with not only the islands but also her husband, and on-air co-host, Gregg Hammer. Shawnee and Gregg have been married for 17 years. She loves to spend time with her family, fashion, trying new restaurants, hiking and serving in their Church and community.